Little announcement for being honest
I'm using evolution as delivered by Ubuntu. In Hardy Heron the synchronization didn't run as smoothless as I had wished: Neither the ics file import into Google nor the manual update of evolution fullfilled all requirements. The main problem seems to be the management of recurring appointments: they are not be imported nor updated nor synchronized from evolution to Google and vice versa.
With the upgrade onto Lycid Lynx in April 2010 all problems disappeared, exactly as already formerly very positively discussed: synchronization via built in features of evolution now works fine.
So my former work around isn't any longer nescessary. Take it as a part of the history:
Firstly I imported an ics file into Google which I had generated by evolution.
Secondly I re-inserted alle recurring birthday into my Google calendar using the Google web frontnend.
Thirdly I reviewed all not recurring appointments which hahve been imported by the ics-import.
And fourthly I am strongly waiting on the April and the Lucid Lynx.
How can I synchronize my Linux evolution calendar and my Android calendar using my Google Mail Account?

On my Linux desktop I'm using evolution as Personal Information Manager: I'm writing my mails with evolution, I'm managing my schedule data with evolution, and I'm managing my contacts with evolution. Hence since I had decided to buy this smartphone I wished to connect my T-Mobile G2 touch with evolution, even if I had therefor to establish a detour via Google:
At first I had to generate my new Google account which is nothing more than a Google mail address like xyz@googlemail.com. As soon as I got the account I could access not only the Google web mail but also the Google web calendar and - embedded into the web mail application - the Google calendar.
Then I had simply to open evolution for calling up the menu entry New/Calendar. By the dialog which now was opened I could

configurate the new calendar as Google calendar (Drop Down Selection),
insert my Google account
activate the offline option
define the calendar as default calendar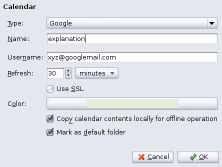 And finally I had to do "nothing more" than to copy my existing schedule data manually from the old calendar into the new Google calendar.